If you encounter these problems:you can't record video without a photographer;you can't take photos by yourself;when you need to release your hands,the fixed bracket is not flexible;you will be tired if you hold the video call for too long,all these 360 auto face tracking camera holder mount and object tracking camera phone holder will help you solve the problem,Let your phone follow you,Take selfie and no longer ask for help.
 https://www.youtube.com/watch?v=3M_Pipvkk6k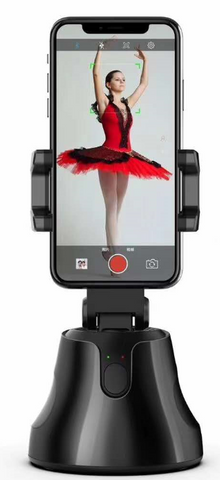 Face tracking holder introduce the AI technology of human image composition and scale estimation into intelligent shooting,360 degrees rotate around, and automatically recognize the person / PET. When you go, the mobile phone will turn to where you want to go, set the pose, and take pictures automatically at a fixed time of 3 seconds.Great for Lectures,Sporting Events,Presentations.Group Photos,Adventure Shots,Instagram,Facebook Live,
cell phone selfie stick can track and shoot real-time objects, follow the displacement of objects, for example, when the dog is moving, the mobile phone also follows the dog, and then automatically shoot.What a great surprise to get a high quality professional selfie stick,everyone can use it and will love it.
How to Use : Put 3xAA batteries in, Press the button about 5 seconds until flashing red light. Download 'apai genie' into your smart phone and turn on the bluetooth.
Notice : 1. It be used together with mobile app 2. It is recommended to use single scene. Affected by sight distance, landscape is better than portrait. 3. do not move the face / object too fast. Made for iPhone and Android (Support system iOS 10.0 and later, Android 8.1 and later), In order to provide customers with a better experience, we will continue to update the app, sometimes it will bring system errors, it is only temporary, we will fix it asps, hope You understandhttps://www.youtube.com/watch?v=3M_Pipvkk6k&t=57s